Sponsorship Outline
CouchWarriors runs monthly gatherings, special marquee events, tournament services at conventions, and an annual national major tournament called BAM – Battle Arena Melbourne.
Our Monthly Ranking Battles attract over 210 attendees per month and are a perfect way to create solid regular engagement with the community.
BAM is in its ninth year and attracts players from all over the country, acting as the major gathering for our community. 

We expect over 1,000 attendees and 150,000 viewers on a live video stream and subsequent video archives. 

Full 2017 Sponsorship Prospectus available here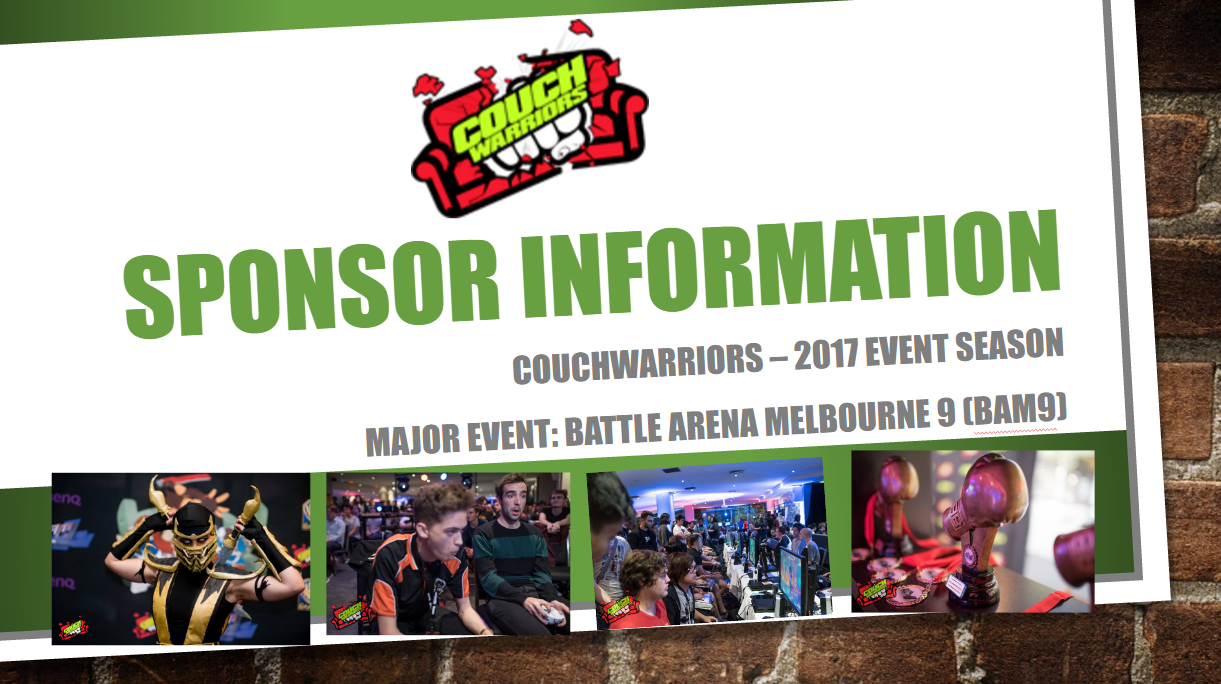 BAM is an opportunity for a sponsor to reach a strong core gamer audience as well as an ever growing online gaming and general entertainment audience that take an interest in events like these from a sporting style, spectator's perspective.


As a sponsor or partner with BAM and other events, we can offer value such as:
Space to show product either as a display or as part of prize and raffle packages
Access to hundreds of core gamers onsite
Thousands of viewers on live stream
Logo, banner, and linkback on BAM website and materials
Coverage via media partners, social networks and grassroots community

Further options can also be explored with the team. We have time built in to the schedule for promotion and exhibition (Live and on stream) for the right opportunities, such as showcasing unreleased games.

To enquire about sponsorship or media access, please contact CouchWarriors
Partnership liaison Jason at [email protected]
Brand Strategy manager Daniel at [email protected]
General info [email protected]