Battle Arena Melbourne 11 BAM11 (2019)
#BAM11 is the continuation of Australia's Biggest Fighting Game event!
Thanks for attending another record breaking BAM!
Once again our community of passionate gamers are flocking to the Melbourne Convention and Exhibition Centre on the 17th-19th of May.
It's the largest open entry esports event in the region and an international destination.
BAM11 is the 2019 final stage of BAM PATH TO EVO, sending the top ANZ players in three games to EVO World Championships http://www.bampathtoevo.com
BAM11 returns to global pro tours:
Master event on the Tekken World Tour: http://tekkenworldtour.com/
Ranking Event on the Capcom Pro Tour: https://capcomprotour.com/
In 2018 CouchWarriors also hosted Dragon Ball FighterZ World Tour events. Further 2019 BAM special events are to be announced. BAM proudly supports tournaments across the fighting game community in a three day festival of gaming.
Schedule: To be Posted.
Dates: Friday, May 17 – Sunday, May 19 2019
Location: Melbourne Convention and Exhibition Centre, bays 19-20
(Opposite Crown Casino) 1 Convention Centre Pl, South Wharf VIC 3006
Facebook Event: https://www.facebook.com/events/2254316314840138/
Registration Details: https://smash.gg/bam11
Entry Fee:
$50 Pre-registration (Ends Sunday April 28th Midnight)
$60 late registration (Ends Thursday May 16th Midnight).
$70 on day registration (Gold and Silver tournaments, cut off 1hr before tournament start)
Registration for all Platinum level tournaments and Smash titles ends May 13th!
Tournament Entry Fees:
$10 per tournament (or as listed)
Spectator:
$20 Weekend (can convert to Venue entry)
Cosplay; TBA
Signing in; TBA
IMPORTANT:
If you don't have a pass, then security will not let you into the tournament area.
Please ensure you have your pass visible at all times.
Picking up your Ticket/Pass:
You will need to show a valid form of ID (PayPal Receipt / Smash.GG Account / License) when speaking with the TO's to pick up your pass.
Speak to our TO's at the Registration Desk to pick up your passes. Once you have your pass, you will be free to play casuals or when scheduled, play your tournament matches.
The Games:
Platinum Games:
Super Smash Bros: Melee
Super Street Fighter V: Arcade Edition
Super Smash Bros: Ultimate
Tekken 7
Dragon Ball FighterZ
Gold Games: 
Super Smash Bros: Project Melee
Dead or Alive 6
Soul Calibur 6
Guilty Gear Xrd
Mortal Kombat 11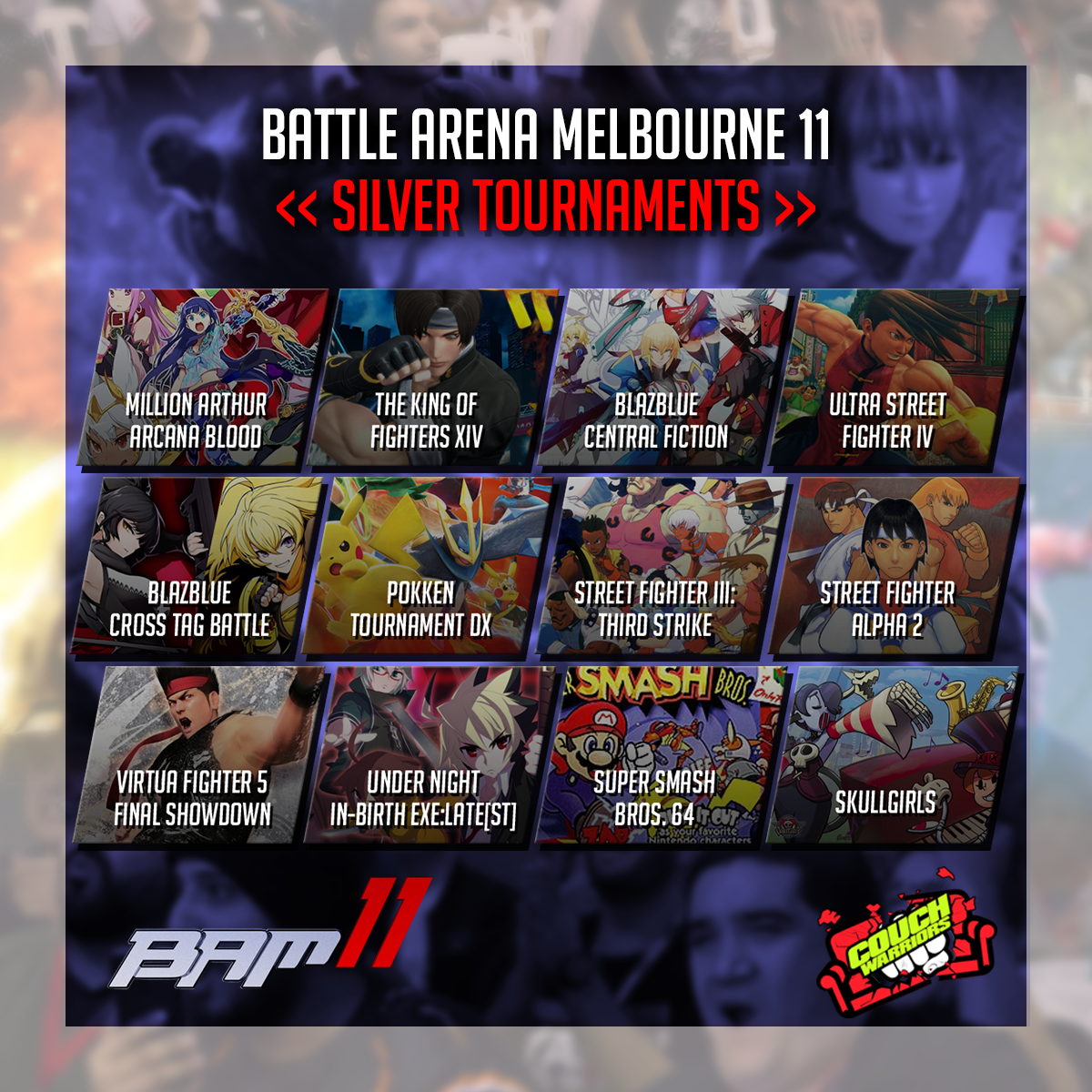 Silver Games:
Million Arthur Arcana Blood
The King of Fighters XIV
Blazblue Central Fiction
Ultra Street Fighter IV
Virtua Fighter 5 Final Showdown
UNDER NIGHT IN-BIRTH Exe:Late[st]
Super Smash Bros. 64
Pokken Tournament DX
Street Fighter 3: 3rd Strike
Street Fighter Alpha 2
Skullgirls
Blazblue Cross Tag Battle
Street Fighter II Turbo (Not Pictured)
Rivals of Aether (Not Pictured)
Retro Tournaments
Akatsuki Blitzkampf
Fate/Unlimited Codes
Hokuto no Ken
Guilty Gear XX Accent Core +R
Vampire Saviors
Further Features & Exhibitions:

Double bay at MCEC, huge floor space for setups, special events and vendors.
Free to play casual setups for full venue ticket attendees.
A huge range of international guests – global esports tour participation to be          announced.
PC LAN Area.
T-shirts and merch.
Friday Night Exhibition tournaments to be announced.
Cosplay competition Details TBC.
Artist Alley Details TBC.
Indie Developer Showcase Details TBC.
BAM Afterparty Details TBC.
Getting There:
VIA PUBLIC TRANSPORT :
Melbourne Convention and Entertainment Center is located close to both Southern Cross and Flinders Street Stations. If approaching from Southern Cross Station, the venue is a short 11 minute walk away. In addition to this, you can also take either the 96, 12 or 109 Tram, which stops close to the venue. If approaching via Flinders street, its a 15 minute walk via the Yarra Promenade.
You can also take either the 35,70 or 75 Tram and then walk a short distance to the Melbourne Convention and Entertainment Center. Please bear in mind if you take public transport to observe the relevant public transport laws and regulations
DRIVING IN :
If you are driving in, there is parking both available at Crown Casino as well as South Wharf – DFO. Parking in both of these area's requires a fee. There is also other paid parking in the city. Find more information here: https://www.secureparking.com.au/
Most Importantly, Good Luck and Have Fun!
Sponsorship Inquiries: