Battle Arena Melbourne 9 Event Features Roundup
Press Release
CouchWarriors Battle Arena Melbourne 9: A homegrown, global esports event
International stars will play shoulder to shoulder with local heroes at Melbourne Convention Centre this May on the 12th to 14th.
Battle Arena Melbourne (BAM), Australia's largest fighting game major, and one of the biggest live esports in ANZ, returns for its 9th annual event on May 12-14. Now taking on two bays in the Melbourne Convention Centre to offer both a community experience and a major esports festival – this year is BIG BAM!
With Australia and the world's best players playing across 8 national championship titles including Street Fighter V, Tekken 7, Super Smash Bros, and multiple side events, BAM is aiming for a third consecutive year of record breaking attendance. The event will host over 1,000 competitors, plus spectators taking in the excitement live, and hundreds of thousands more viewing from home on Twitch.tv.
Featuring the first ever Australian Capcom Pro Tour Premier Event, #BAM9 will be a key destination for the prestigious global circuit. Already confirmed are world famous champions Daigo, Infiltration,  Xian and Momochi. This Street Fighter V tournament alone will have over $20,000 in cash prize pool.
BAM9 will also be the first tournament featuring the final build of Tekken 7, including a free to enter New Challengers tournament and Learn to Play. Plus, the biggest Smash Bros event in the southern hemisphere. With Five stages of major and side tournaments across many gaming communities, alongside Cosplay, Artists, and Vendor booths, BAM9 has something for every gaming fan.
What: Battle Arena Melbourne 9 (BAM9)
When: Friday, May 12th – Sunday, May 14th
Where: Melbourne Convention and Exhibition Centre, (Bay 1&2)
More Info: www.CouchWarriors.org. Follow updates on the Facebook Event
REGISTRATION: www.smash.gg/bam9
Trailer: BAM9 Trailer
Previous events: BAM8 Results | BAM8 Photo Gallery | BAM7 Photo Gallery
BAM9 Assets: https://drive.google.com/drive/folders/0B64F0iSQUNTST0NEclJqU3NyYk0
About: As one of the original esports scenes, the Australian Fighting Game Community (FGC) has flourished. Organised by community events group CouchWarriors, now in its 10th year, BAM9 will be bigger than ever, both for casual fans and competitors hungry to prove themselves in interstate rivalries or against international competitors.
Event Features
The first ever Australian Premier Event on the Capcom Pro Tour
A major esports championship, with over $20,000 in prize pool for Street Fighter V alone.
Previous world champions Daigo (Japan), Infiltration (South Korea), Momochi (Japan) and Xian (Singapore) have signed up with more to come. Will be broadcast on the official CapcomFighters channel with commentary from Mike Ross (ESPN and CrossCounterTV). The winner will receive a huge points boost on the global ladder to qualify for Capcom Cup 2017.
More Info: BAM9 a Capcom Pro Tour Premier Event | Daigo and Infiltration at BAM
A TEKKEN 7 Pre-Release Extravaganza
Tekken 7 will be a major presence with its own dedicated stage area. Play final code for TEKKEN 7 three weeks before release. With the final build on the floor in abundant setups, fans can join the New Challengers tournament for free, Learn to Play from community experts and make their mark in its first major tournament for cash and prizes.
More Info: Tekken New Challengers
The largest event Super Smash Bros event in the southern hemisphere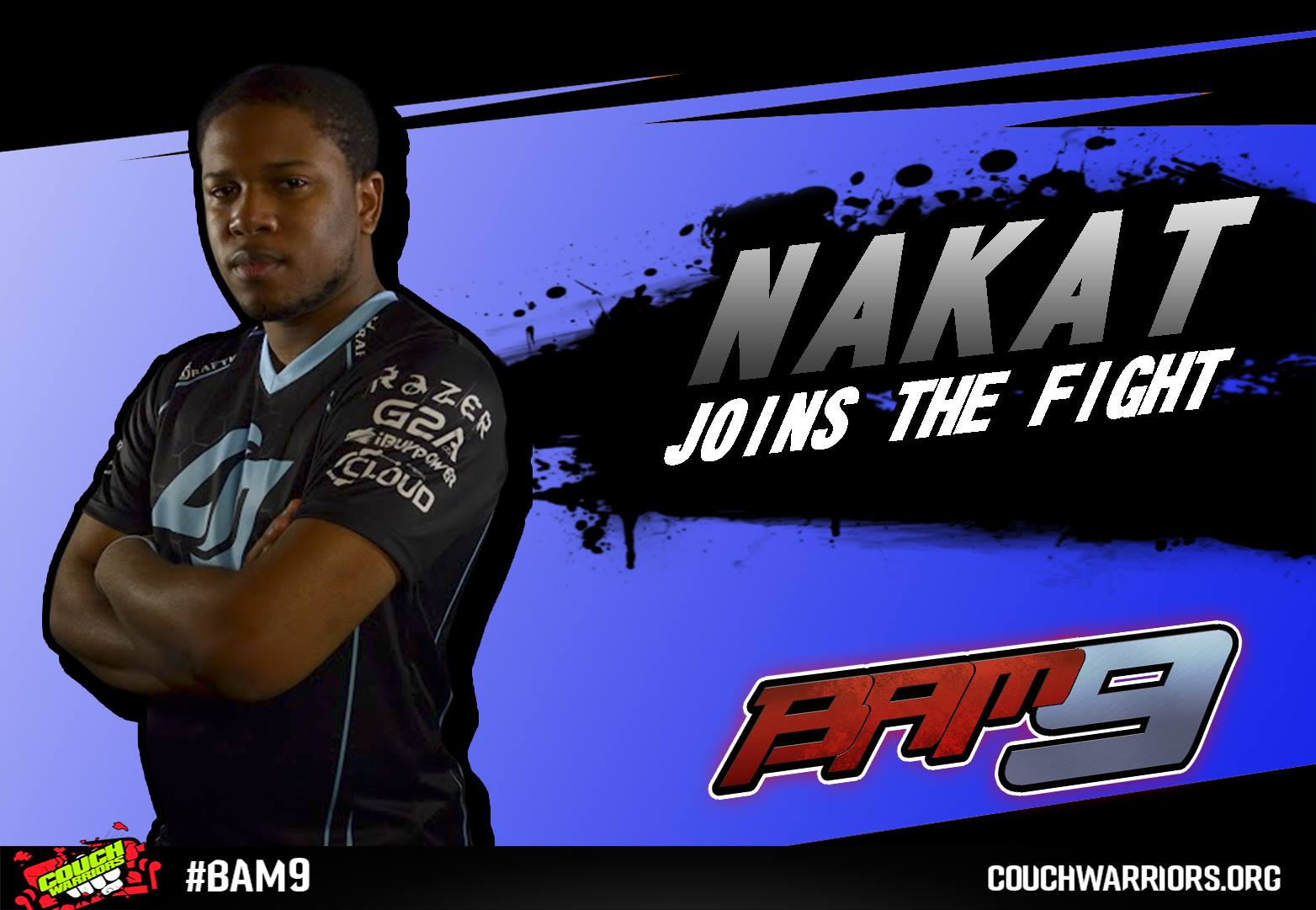 Two Massive Stages will feature tournaments across both SSB Melee and Smash 4. The amazing growth in the Smash community sees its epicentre at BAM. Top Australian players will face off. with International guests, incl is SoCal USA's Nakat, with more to be announced, funded through the Smash community!
More Info: Super Smash Bros at BAM
Cosplay Championship
Become the CouchWarriors Cosplay Champion, showing your fighting spirit in your best fighting game costume for a chance to win some awesome prizes, including tickets to OzComicCon Melbourne and a cash prize pool of $500.
More Info: CouchWarriors Cosplay
Huge range of games and Activity + Afterparty
Plus Side Tournaments and Casual play for a huge range of additional games, Vendor Booths, Artist Alley, an awesome BAM9 Afterparty, and more.
More Info: Guest Artists: Chamba (Street Fighter 2, Udon Comics) & Bosslogic
BAM 9 FEATURES AT A GLANCE
Capcom Pro Tour Premier Event
Over $20,000 AUD Cash Prize Pool

First time in Australia to have the top status event

Provides major points leading to Capcom Cup

Attracts world class International players:

Previous World Champion and current world #2 rank Xian
Previous Capcom Cup Champion Momochi

Official live stream via Capcom Fighters with guest Commentators including Mike Ross from ESPN and CrossCounterTV
Tekken 7 Pre-Release Extravaganza
First major tournament For Tekken 7 in ANZ

Play the final game three weeks before release!

Prize pool bonus supported by Namco Bandai (TBC)

Dedicated Tekken stage and stream on Twitch with commentary

New Challengers Tournament – new Tekken players only. Prizes available

including T-shirts, Posters and Tekken goodies

Learn to Play with Expert players from the community

All Entrants to Tekken Main Tournament get a Free Tekken 7 T Shirt.

See the PC version of Tekken 7 in 4K on a massive Samsung TV!

Tekken Pass: FREE entry and play on over 40 Tekken 7 machines right across the weekend
The largest event Super Smash Bros event in the southern hemisphere
Super Smash Bros Melee and Smash 4

A major stage for each game!

International guests, funded to join the event through the community
$500 Cash Prize Pool

Top 3 Win Priorty Tickets to OzcomicCon Melbourne

Saturday: Characters come to life in cosplay parade

Sunday: BAM9 CouchWarriors Cosplay Champion
Huge range of games and Activity