PHANTOM 2022 Major Recap
It's now been just over a week since Phantom 2022 rocked Sydney – hopefully long enough for all attendees and competitors to have fully recovered!
Phantom was a truly massive weekend for our elite Smash players and for the whole community, with 575 entrants across Melee, Ultimate, P+ and Rivals of Aether. They traveled from the outer suburbs, from regional NSW, from interstate – and from overseas. Thanks to the diplomatic efforts of players like MF|Joshman and recognition as a Platinum event from the Smash World Tour, this Phantom boasted many of the most respected names in Smash, and was streamed live by VGBootCamp, Mang0 and Ludwig Ahgren to thousands all over the world.
The stream production and organizational staff also rose to the occasion of an international major. Kitt Miller produced an inspired graphics package for both the Melee & Ultimate broadcasts. Dom Hynes was in his element as Melee streamrunner, while Marcel Nguyen (hardware) and Jake Craven (software/streamrunner) handled the Ultimate side. put out a slick and distinctive broadcast which looked like a million bucks all weekend. Tons of talented commentators showed up to contribute a shift on the mic and entertain the fans tuning in. Head TO Aboroza kept things running like clockwork backstage, ably assisted by Chef, Cailan and the other TOs and admins.
"Build it and they will come" is the old saying, and this team built a major that pulled in talent like these shores have rarely seen.
MELEE SINGLES
C9|Mang0 was there, with Lucky and null in his entourage. GG|Zain made the trip over, as did FLY|KoDoRiN, the twin titans of Marth. Panda|iBDW, who was our first ever Phantom champion in Melee, came gunning for a second crown – and a runback against Joshman on his home turf. Polish, Khryke, Calvin, Nick Yingling, Jada_TBK, and of course Ludwig (on the mic) made sure this felt like a capital-M major even if in some ways it was still quintessentially Australian.
Not everything about a tournament can be fully planned for, of course. TSM|Leffen cancelled his trip at the last second which wreaked havoc on seeding, and hometown hope Joshman was tragically forced to withdraw with a COVID scare before Top 16. But nothing could ruin the spectacle of seeing the gods of Melee tangle with our local legends – and even with those odds against them, the Australian contingent put up a fight!
SA Nick kicked off Top 32 in style by slapping null down to losers 3-1, which gave the crowd something to cheer for and earned him a shot at Zain in the next round. BAM 2022 runner-up Duck snatched a game off iBDW, briefly raising the thought that he might have some sort of specific weakness to Australian Melee.
But the much-desired upset was not to be. Not only did iBDW rebound to close out that set 3-1, he romped through the rest of the day and won the whole event! Zain was the only player besides Duck to even get on the scoreboard against his in-form Fox, taking a single game in both their Winners and Grand Finals sets before being brushed aside. The final stock of the tournament saw Zain trying to stall by refreshing invincibility at the ledge, only for iBDW to simply flip offstage and snap onto the ledge himself. He left his opponent looking foolish, as he had for the whole event.
Congrats to the winner of #Phantom2022 Melee, @iBDWSSBM !@AORUS_ANZ pic.twitter.com/xchRXcf6s8

— P H A N T O M (@phantomtourney) July 17, 2022

It was the second straight Platinum event win for iBDW, made only slightly less sweet for not resolving his mini-rivalry with Joshman. The notoriously proud American had endured the crowd's banter during his run, but all was forgotten in victory as he was crowned two-time Phantom Melee winner. The locals were eager to fete the new champion in our most Australian fashion, and iBDW played the part: he toasted the crowd with an on-stage shoey, and even joined his hosts on a victory lap of Taronga Zoo to round out his visit. Good lad.
The zoo has been chopped https://t.co/PoOT5VI9d5 pic.twitter.com/ne4q6RWO08

— TB | Danklin (@TimDanklin) July 18, 2022
ULTIMATE SINGLES
All the big names from around the country showed up to try and claim the title of Major champion. A much smaller international contingent than Melee guaranteed Australian representation across the Top 16 – although there were strong runs by Singaporean visitors PsineWave and Terrarian and of course, the #1 seed out of Japan – DNG|Nietono. The notorious Pichu master proved just as deadly as expected. Showing off incredible execution and a few pocket characters, Nietono swiftly marched through the Winner's bracket to Top 8.

SebPro and Fryd Ryce were each able to stall Nietono's momentum for a game, but not stop him over the full 5.
The remaining sports were all but monopolized by the Victorian state PR; Kanga|Jdizzle, FURY|RaZe, Kanga|Sriks, MOD|Extra, SebPro101 and DD all stamping their mark on the major. It was a huge flex from the visiting Melburnians, and will no doubt provide plenty of fuel for the competitive fires of other states.
The CWL ladder implications of this VIC dominance will be far reaching, but DD is the biggest immediate beneficiary – extending what was previously a narrow lead over SA players Taicho and Heaven with the fat bounty of a double-points major win. Those two and many other SA players will look to their state's upcoming major – Big Cheese – as their chance to play catch up.
As Nietono continued his run through the Top 8, reigning BAM champion Jdizzle and a red-hot DD stepped up to defend the pride of the home crowd. Jdizzle had the locals roaring after an absolute demolition of Nietono in their first game. For a time at least he seemed able to consistently find kill moves on the elusive Pichu, and there was solid hope for an upset.
But after a couple of games Jdizzle started to look like he was cornered. Nietono was able to exploit Pichu's strong aerial hitboxes to punch through Young Link's wall of projectiles, and Jdizzle struggled to land a clean hit close up. Edgeguarding was also a concern as Jono just could not find his way back to neutral in games 3 and 4, losing 6 straight stocks to close the set in the most bitter fashion.
Finals commentators Chipotle and Olag had noted with concern the tendency for Jdizzle to immediately slump out of Losers after taking his first L in Winners side. And having endured such a brutal finish to that prior set, the momentum definitely seemed to be against him as we immediately plunged into Losers Finals. By contrast, DD was surging into the matchup on cocky, confident play and with the knowledge they'd already overperformed relative to their seeding just to get this far.

It would be bold to suggest this psychology had a deciding role in the set – as ranbat neighbours and long-time doubles partners, neither of the pair was likely to underestimate the other. But there was definitely some kind of extra sizzle around DD's play here, their Wario crisply controlled and tenaciously aggressive. Jdizzle's projectiles couldn't keep them out for long enough often enough, and so it was DD and Wario who earned the right to be Nietono's final opponent at PHANTOM 2022.
And it looked like they were loving every second of it – jesting with the crowd, spamming the "STEVE!" sound effect every time they went to character select, and trying out every kind of wild gambit once they were in the game. To my eye at least these were the games where Nietono looked most mortal; it never felt like DD was completely figured out, and the massive kill threat of waft or upsmash on featherweight Pichu kept things interesting to the end.
But the end did come, and quicker than any of the home crowd would have liked. Nietono weathered a full assault from the best Australian on the day and came through smiling with a 3-1 win, denying even the chance for a reset. His entourage of sign-wielding fans were ecstatic, as were the thousands of Japanese viewers who had rushed into the stream chat to witness this run.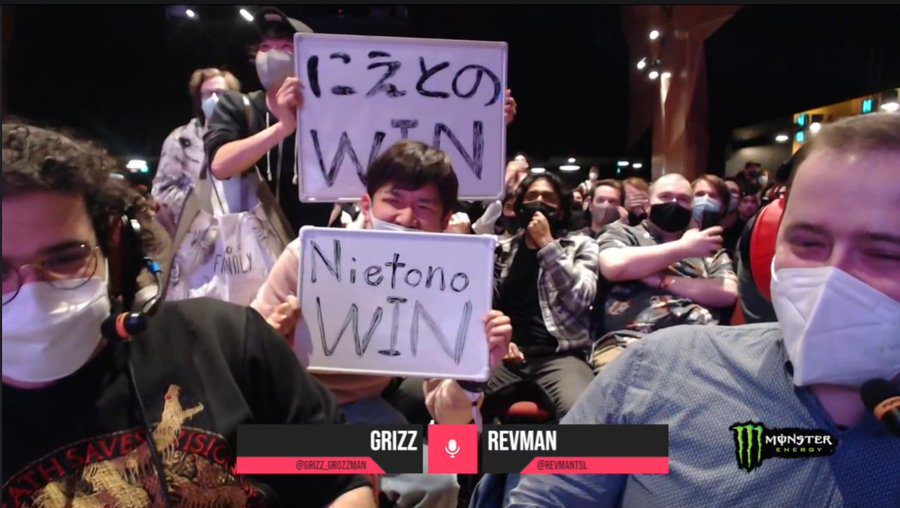 It was a big moment. And while many attendees would be a little hurt to not crown at least one Aussie winner at our own major, it was one of many moments that underscored how genuinely significant this Phantom was – not just in an Australian context, but an international one. There were more eyes watching, more stars in attendance, and international partnerships for the broadcast. Plenty of our players stepped up as well; DD was far from the only person to play significantly above their original seeding!
Here's the top 32 of Phantom 2022 with states, characters and how much higher/lower they placed compared to their seed
Likes and retweets appreciated 🙂 pic.twitter.com/DcHgplZSKS

— Sumi (@MrsSumi_) July 18, 2022
QLD star Jix wowed the viewers with their skill and intensity on Diddy Kong, looking right at home in Top 8 alongside the Victorians and Nietono. Even in their losing set against DD, Jix was absolutely in the running and took the eventual finalist to a game 5 that could have radically altered the rest of the bracket! Perhaps it was just fatigue that brought them down in the end, after overcoming multiple long sets in the struggle to reach Top 8.

No NSW local made it quite that deep, but it's impossible to be disappointed at the heroics of Unfezant, Shmu and Phoebe, who were each just one win outside the Top 8.
Unfezant lived up to the strong praise heaped upon him before the event, most notably upsetting Kinaji in Losers before becoming another victim of DD's. Had Unfezant not taken a shock loss in the final of his pool (to QLD Falco Stacked, who also had a great run to 25th) then it seems likely that the kind of flashy Mario play we saw could well have carried him into Top 8.

Shmu posted maybe the biggest result of the first round by immediately busting Ghost down to Losers, 3-2. They then halted a good run from Sumi before ultimately falling short in a nailbiter game 5 against Jix. But the biggest win of Shmu's tournament was already in the bag from a round earlier – eliminating CWL Online phenomenon Fryd Ryce in the Pikachu ditto. It took all five games in an absolutely gruelling contest, but the bragging rights as Australia's top thunder rat were surely worth it!
Phoebe had one of the most thrilling runs of anyone at the event, and she did it all from Losers side. Taking on seven consecutive elimination matches with only a fearless Charizard and a maid outfit, it was impossible to tell how far she'd go. But Phoebe proved to be indestructible in the clutch, sticking to the Pokemon plan and building momentum as she bowled over MOD|Xav and 3-0'd PsineWave!
While SebPro's R.O.B. finally brought Charizard back to earth and eliminated Phoebe, her finish was enough to qualify (along with the rest of Top 16) for this year's OrionRank PR.
You can find these sorts of individual milestones echoed all the way down through the standings – one of the real delights of any Major. Of the Top 32, 23 players finished higher than their seed would predict. Phantom 2022 was the culmination of months of hard work from players, TOs and production staff, and when the big weekend arrived it was clear that effort had paid off. No doubt Phantom 2023 will see even bigger and better things as a result.
FULL TOP 8 RESULTS