BAM11 Tournament List
The Couchwarriors team are excited to announce the full tournament lineup for
Battle Arena Melbourne 11.
The tournament structure is in four tiers – Platinum, Gold, Silver and Retro.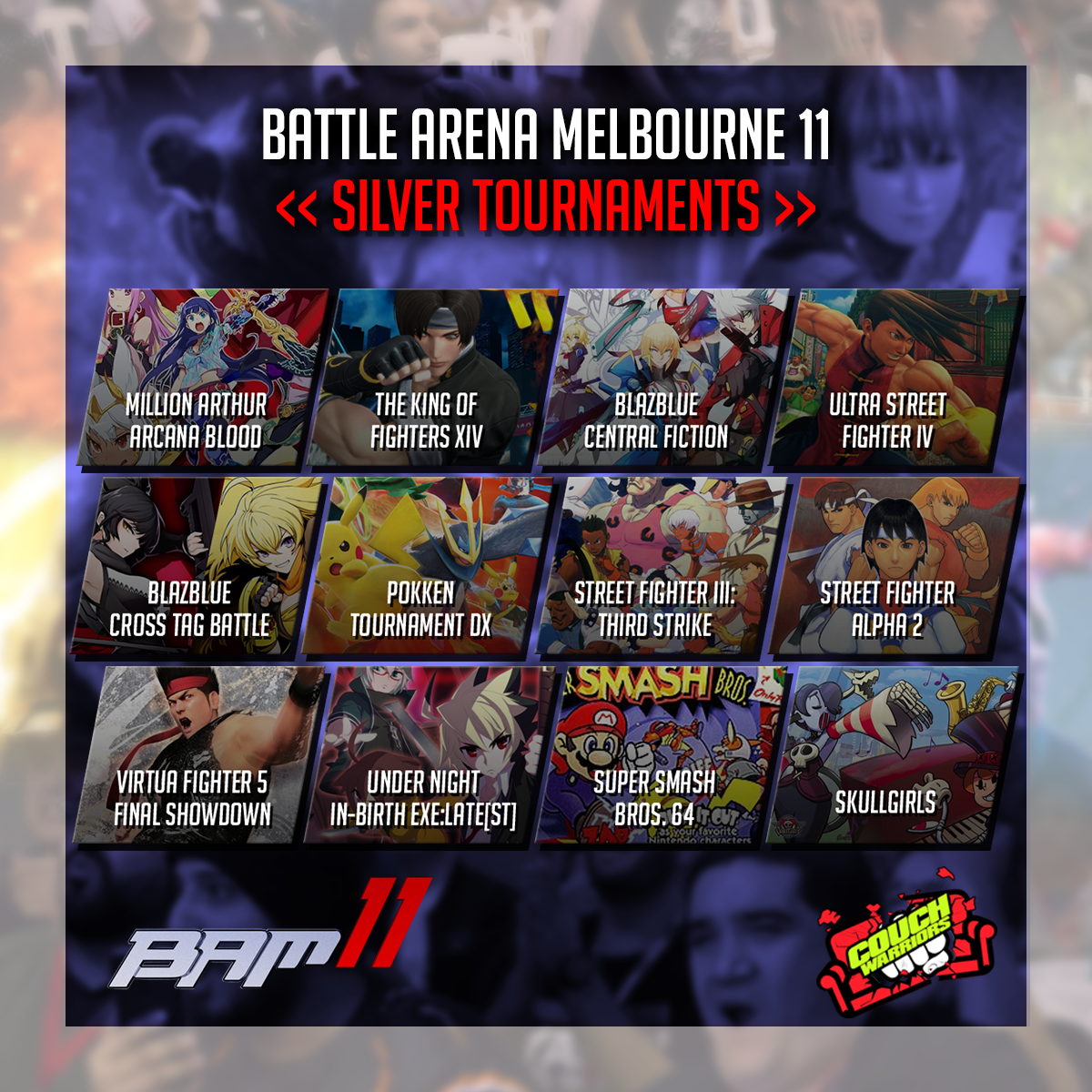 All Platinum and Gold have premium stage time, both winners will also get to take home the coveted BAM Trophy.
Silver Tournaments are community run tournaments where the winners are awarded the BAM medal.
Retro Tournaments are community run events run entirely for glory.

Register Here!
Platinum+ Tournament
Mortal Kombat 11
Platinum Tournaments (Trophy, Stage Time)
Tekken 7
Street Fighter V
Super Smash Bros Ultimate
Super Smash Bros Melee
Dragonball FighterZ

Gold Tournaments (Trophy)
Dead or Alive 6
Guilty Gear Xrd
Soul Calibur VI
Super Smash Bros Project Melee
Silver Tournaments (Medal Prize). 
Million Arthur Arcana Blood
The King of Fighters XIV
Blazblue Central Fiction
Ultra Street Fighter IV
Virtua Fighter 5 Final Showdown
UNDER NIGHT IN-BIRTH Exe:Late[st]
Super Smash Bros. 64
Pokken Tournament DX
Street Fighter 3: 3rd Strike
Street Fighter Alpha 2
Skullgirls
Blazblue Cross Tag Battle
Street Fighter II Turbo (Not Pictured)
Rivals of Aether (Not Pictured)
Retro Tournaments
Akatsuki Blitzkampf
Fate/Unlimited Codes
Hokuto no Ken
Guilty Gear XX Accent Core +R
Vampire Saviors