#BANC – Battle Arena NightClub Interviews & Recap
Sunday, July 11th saw a year of pent-up competitive energy unleashed from a highly unusual venue. Inflation Nightclub and Entertainment Complex has been a party fixture on Melbourne's King Street for decades, but they'd never seen anything quite like the crowd of 240+ FGC diehards hollering over the noise of the venue to celebrate a knockout blow. 
With a brief window to take advantage of lowered COVID restrictions but no way to facilitate a full-sized major, an event was planned to carry on the spirit of BAM in the best available venue, and thus we got to enjoy #BANC – Battle Arena Nightclub 2021.
A huge debt of thanks is owed to all the CouchWarriors staff who've been pitching in since the pandemic began (and before) and who made BANC a reality through their hard work, as well as to the players for coming out and supporting things in the safest way possible. And despite pandemic restrictions keeping many fighting game fans away from the venue, they still made sure to watch from home: nearly 80,000 viewers tuned into the tournaments live on Twitch.
RESULTS
As the spiritual inheritor of BAM's role in the calendar, albeit as a "mini major", BANC boasted tournament options for all the major CouchWarriors League games (and a few more besides). Notably, this was a breakout first major for Guilty Gear: Strive, which brought in 65 entrants from across the spectrum of anime, 2D and Smash players alike. A tremendous opening night for the newest CouchWarriors League major title! 
GUILTY GEAR: STRIVE
eveAZN
Feri
EMO|Forte
Frank
Damon
Marcus
Tito_Ed
Marty
The biggest story of the night was here in a dominant run from eveAZN – who was happy to boast of his freshness to the GG franchise even as he swept through the bracket undefeated. 
"Considering this is my first time competing in any 2D anime fighting game, and backed with my recent placings — it's safe to say I'm the prime example that anyone can excel at this game, regardless of your past background experiences."
It's doubtful that just anyone could have piloted the volatile vampire samurai Nagoriyuki like eveAZN did, however – throwing out a precise mix of moves to manipulate the deadly Blood Gauge while maintaining a neutral game commentators could only describe as "immaculate". 
His path to victory was capped by two impressive 3-1 set wins over Gutu "Feri" Hassan, a decorated Guilty Gear champion of past CouchWarriors events. Feri wasn't lacking for form either, shredding through fellow anime veteran EMO|Forte 3-0 in Losers Finals. But his May could barely drop anchor on eveAZN before his runback attempt was stifled, and the most exciting new division in the CWL had its undisputed champion.
eveAZN played it cool after his victory, insisting that "I never expect myself to win any events past, present or future," and "I didn't really have any special preparation for the event, I played two hours of Strive the day before like every other day… I play many other games on rotation throughout the week, about 10% [of that time] goes to Strive at the moment." Despite this casual talk, eveAZN went on to dominate the next national online event for GGST the week after BANC, cementing his Nagoriyuki as a serial top 8 threat.
Feri seemed to be taking a longer view of things after his first GGST major:
"We're all still figuring out GG Strive, me included. I'm not sure I'm in a place to comment about the skill level of the average player there, but I didn't win the tournament so that's always a good sign! (laughing). I'm happy to see new faces come in, put in the work and show me what they're made of. I'm not the anime title gatekeeper for no reason!"  
He did offer a matter-of-fact justification for failing to slam that gate on eveAZN: Strive isn't close enough to past Guilty Gears to give veterans any advantage. He certainly couldn't lean on his past experience for the Nagoriyuki matchup!
"It's a misconception to think of Strive as a continuation of the series in how it plays," he explained. "Instead it occupies a spot that is weirdly close to Street Fighter, SFV in particular – but with a slight twist that would make it unfamiliar for players coming from there too… a quick message to anyone wanting to find a fresh start in a new title: this is the one!"
eveAZN was equally positive about the deal Strive is offering potential GG newcomers.
"I think Strive was the fighting game everyone was waiting for: more neutral, less setplay, big damage, nice graphics, interesting characters and that godlike netcode as the cherry on top… as long as I enjoy it, I'll keep playing it."
STREET FIGHTER V
Schenkhan
ORDER|ROF
DS|Somniac
Rupps
syo
DankScorpio
Cadzow_
Philip Wong
Street Fighter at BANC felt like a high-rollers table under Inflation's colourful lights; the bracket shaped by elite rivalries which have simmered throughout the CWL season. Eventual winner Schenkhan described the Victorian SFV cohort as "the strongest scene in Australia", and this small field could easily have been the Top 16 from some larger tournament. There would be no free wins this night, with Schenkhan playing against the dangerous Cadzow_ round 1 before immediately colliding with ORDER's Christian "ROF" Dedalija in a finals-calibre match.
Dividing his time between the tournament setups and admin duties, Schenkhan says it was only after slapping down the in-form ROF 2-0 that he took note of his path through the bracket:
"I was helping Rupps organise everything, so my main focus was on directing players to stations for their matches… sometimes that works in my favour; especially when the players make our job relatively easy. Props to all of the players. From Top 8 on, I started thinking more about how I could win the tournament."
"Winners Final against Somniac was a tricky match," he admits. "We've played a bunch of big matches recently and he's had my number in most of them. It was looking that way again when I was down 0-2… I had to adapt and fortunately did enough to turn that one around. Honestly, taking the mWave bounty [for defeating Somniac in bracket] was the only goal I had for the tournament, and I was lucky enough to get the opportunity!"
Schenkhan may have been the most focused on recovering his running matchup with Somniac, the current CWL points leader. But it was ROF who finally took a set off him on the night, charging back through five straight Losers sets to get revenge and reset the bracket 1-3 over Schenkhan. But Schenkhan rallied and held on 3-1, putting his first CWL event win on the leaderboard.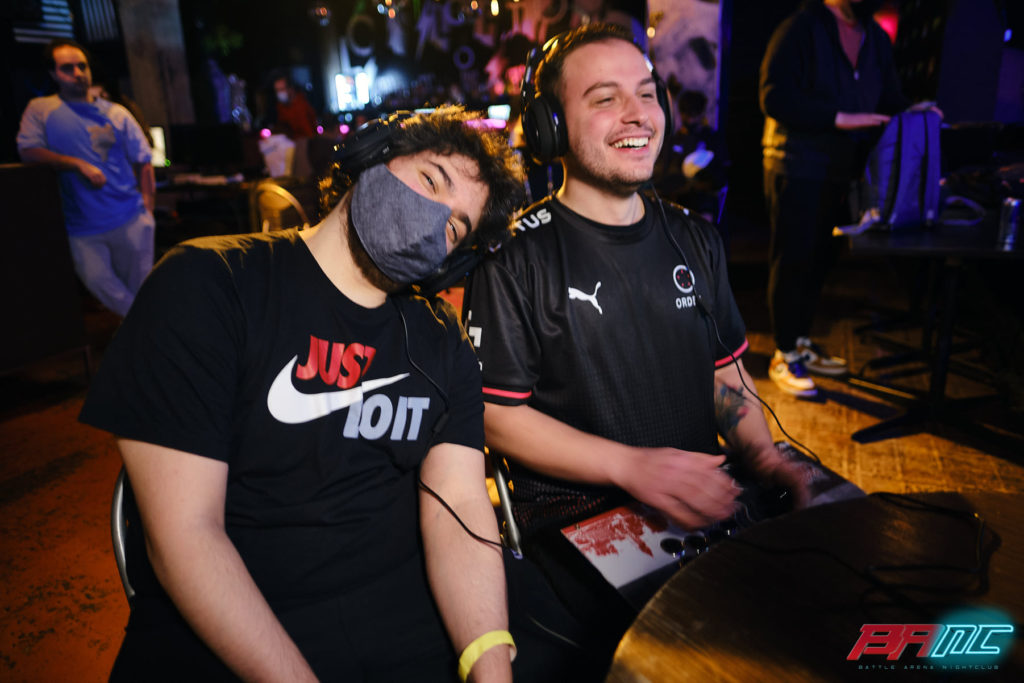 Schenkhan and ROF can't help but enjoy the moment as they once again clash in person.Somehow, despite already splitting time and attention between SFV and admin work, Schenkhan also took the time to (more casually) enter the Guilty Gear Strive bracket while it was running.
"That was actually the first time I've ever played Strive… it seems to have revitalised interest in Fighting Games in Australia, with a lot of new and old players getting into the game. I think the gap is really close between GG regulars and newcomers." He himself finished middle of the pack, but vowed to improve that after the current CPT/SFV season concludes.
"I'm pretty sure Strive will still be going strong by then."
TEKKEN 7
DHT|Yagami
FAM|The Hangman Kid
AFriendlyTree
FAM|Daitooka
iNf|Rame
DHT|Big E
DHT|DemonicBurningFist
iNf|Rainbow Warrior
Tekken Top 3 #BANC
? DHT Yagami
? @hangmankid
? @AFriendlyTree #CWLeague pic.twitter.com/KjqILqq26G

— CouchWarriors (@CouchWarriors) July 12, 2021
The evening's Tekken bracket was a sterling opportunity for red-hot CWL points leader DHT|Yagami to continue a huge streak of offline tournament victories. Sure enough, the champ delivered with an undefeated 1st place, but there was still plenty of drama and crazy finishes along the way.
Despite some explosive combos, eveAZN couldn't quite manage back-to-back top finishes.
As has been the case across the past two seasons of VIC Tekken, Yagami's main competition has been from the ever-shifting cadre of FAMILY. Raphael "Daitooka" Batskos made BANC his breakthrough event for 2021 after leading the FAM through last year's netplay circuit. Also joining him in Top 4 was FAMILY's ever-electryifing King specialist The Hangman Kid. It speaks to the attitude of self-improvement among these Melbourne players that Hangman Kid walked away from BANC hungry, despite a very respectable run to Grand Finals.
Washed up #BANC pic.twitter.com/ITpMlqr0G8

— The Hangman Kid (@hangmankid) July 11, 2021
Granted, that run might have gone a step further – and would certainly have been easier – had it not been derailed by a gutsy performance from Yagami's DHT partner, Big E. Statistically the underdog heading into a King mirror against Hangman in Winners Quarters, Big E instead confidently locked in Leo for Game 1. The combination of well-honed counterpick and an insider's knowledge of King's offense gave Big E the 2-0 win, and he basked in the glow of a main-stage upset.
Hangman has made himself a tournament staple in recent years with consistent top finishes, but suddenly he felt like "The Kid" again; back against the wall, facing straight-sets elimination at the hands of Rame "iNf|Rame" Jeboo. Their Losers Quarters set was an instant classic, both stealing rounds with last-hit parry Rage Arts before Rame upped the ante.
The pace only intensified as Hangman finally managed to slow Eddie down, work some grab mixups, and carefully edge away from the precipice of set point. With momentum slipping away, Rame still found the window to potentially snipe back with yet another round-ending Rage Art – but this time Hangman was ready for him.
Riding high on that read, Hangman Kid proceeded to close out the set and charge through the last few rounds of Losers Bracket. After a triumphant struggle against Nicholas "AFriendlyTree" McPhee, The Kid looked ready to snap both his 2nd-place streak and Yagami's winning streak in one match. 
But momentum deserted him against the brutal, consistent killing machine that is Yagami's Jack. Perhaps running out of gas after his forced heroics in Losers, Hangman succumbed 0-3, 0-3 to the current kingpin of VIC Tekken.
SMASH BROS. MELEE
SA Nick
LGC|DonB
EMO|Dekar
OsP|Microsoft J
Goodie
Melodic
HoC|i dunno who mickymacs is
MM|Cailan
The Smash Melee bracket ended up as an old-school gauntlet, with the big guns of the Melbourne PR rankings rolling out to form a gauntlet for visiting don Nicholas "SA Nick" Siemelink. But even standing alone in this lopsided State of Origin, Nick proved to be more than the assembled Victorians could handle! 
He cruised through to Winners Finals, with a 3-2 over melodiic the only real speedbump along his way. Nick later gave melodiic a shoutout as "a super impressive up and comer", and pointed to their sets as one of the highlights of his whole trip. For his part, melodiic came in 5th-6th after a tough 1-3 loss to David "EMO|Dekar" Moore.
Nick's last two matches for the night were both against newly-anointed Vic PR #1 Miles "LGC|DonB" Dobney; a long-time friend and rival who Nick claims talked him into entering BANC in the first place. But there was no quarter shown on the sticks; after surviving through game five in their Winners Final matchup, Nick only broadened the gap on DonB for their championship set.
"Honestly the tournament felt very different to a BAM," he relates, "as I'm pretty sure I was the only interstate entrant for Melee and the stakes were a lot lower. I still really enjoyed the tournament though, and spent a lot of time doing non-Melee activities with all of the Vic homies."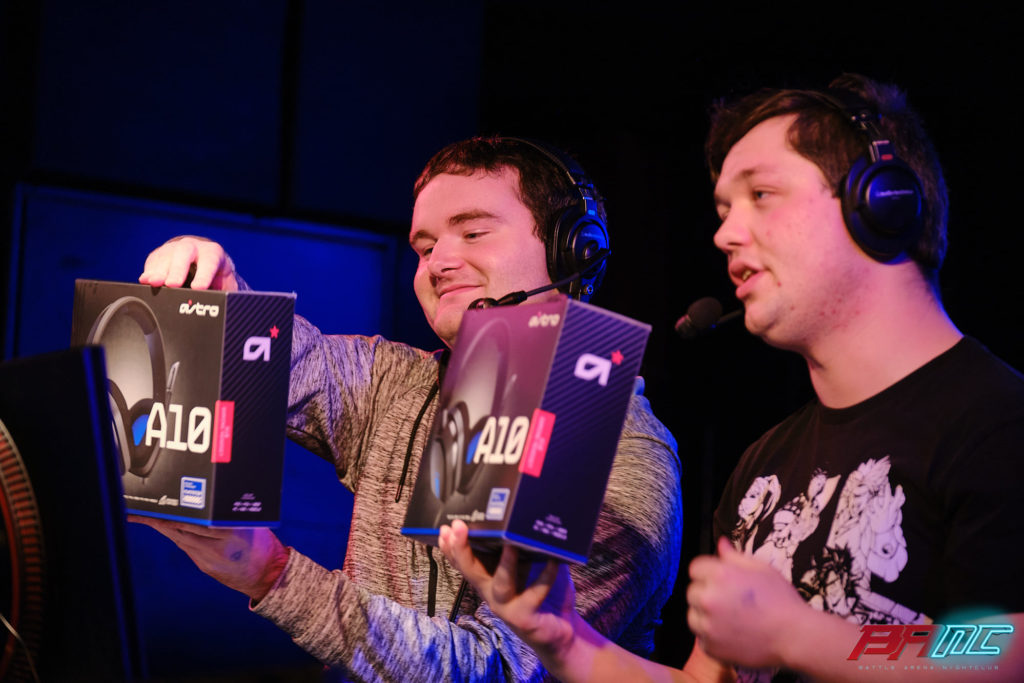 New CWL sponsor Astro helped build some major by offering headsets for top finishers, on top of the scaling cash prize pools and bounties on CWL leaders.
Nick admitted that without top duo Josh "Sora" Lyras and Jacob "Sock" Waddell present to contest the tournament it was hard to consider himself a fully-fledged major champion.
"I'll never count out my opponents. That said, I have very favourable set records against all of the other attendees, so it's fair to say that I was the favourite to win the tournament for most people. I think I played alright, but given that it was my first in-person event for over a year… the experience of playing a tournament set is something I'll have to re-learn to some extent."
Despite those caveats, the BANC champion seemed determined to keep a positive perspective on his brief, triumphant Victorian campaign. 
"Overall I had a great time… I ended up playing indoor soccer, mini-golf and climbing with a variety of people, and it was great to talk to everyone again outside of a discord call. I've been reinvigorated by the trip, and have played a lot of Melee the past few days; it was just really great to compete after such a long break."
SMASH BROS. ULTIMATE
Kanga|Jdizzle
GG|Sriks
Kanga|Ghost
GZ|DD
FURY|RaZe
GZ|SebPro101
MOD|Xettman
Extra
Just looking at that stacked top 8 for Smash Ultimate, you might have thought there was a full-sized BAM held after all! Ultimate had the most competition of any game, registering an impressive 104 entrants; and thanks to a few choice names making the trip down to be part of that number, it had some of the toughest competition as well.

"It was definitely bigger than anything I've been to this year," eventual winner Jdizzle explained. "We had Ghost and Sriks come down, both of whom are top 7 in Aus, along with the top 5 in VIC. Meaning this tournament was stacked at the top level… I'm definitely not biased or anything – but I thought my run was fantastic!"
Jono quickly rattled off a list of complicating factors which had piled up to make victory at BANC so satisfying.
"The day before BANC I had my worst performance since January at Super Sunshine Smash 5, but I didn't let that get to me… I knew I could win if I played my best, but you never know with events like these. The two competitors which generally have me the most worried are Extra and Ghost, so of course I had to face Ghost – and I won in a really tight set."
"When I beat Ghost, that's when I realised I could go all the way. I did have Sriks in Winners Finals and Grand Finals who I have a very good record against. Overall, I was ecstatic taking it with some of the top talent in Australia here!"
Sriks busted out an arsenal of DLC characters, but Young Link proved impervious to every gimmick.
A UNIQUE TOURNAMENT EXPERIENCE
While the focus was obviously on the games, a lot of talk after BANC drifted back to the unfamiliar experience of competing inside a nightclub. 
On the one hand, BANC had all the hallmarks of a major tournament, with over $9000 in cash prizes and top-shelf headsets from new CWL sponsor Astro. But there was also plenty of alcohol and relaxed vibes flowing throughout the event, with many attendees happy to be celebrating BAM weekend. Inflation certainly made a mark on our BANC winners, who came away with some nuanced takes on its merits as an FGC venue.
"It felt like people were really trying their best, so they could get some sort of BAM feel. But there were also people chilling, just having a good time as there was a bar right there," Jdizzle told me.
"I'd never experienced anything like it, going into a Smash tournament with strobing lights, a sticky floor, a dance floor area and with a bar right next to it. It made it so memorable because it was so funny to me! The venue didn't bother me competing-wise… I get so focused in my match that I don't get distracted."
Fellow Smash champion SA Nick pointed out similar idiosyncrasies of the Inflation tournament space.
"I was talking to Miles [DonB] afterwards, and he made a good point; there's something sacred about the ranbat hall, or a major venue, where the entire purpose is to compete, and the availability of alcohol in a venue like Inflation kind of changes the focus for a lot of people. Still, everyone seemed to have a good time – as did I."
TOs and players alike took the chance offered by the venue, running sets on the turntables as well as the sticks.
That seemed to be the final consensus on BANC, which most people might have expected; it wasn't like BAM, but something new and weird and mostly a lot of fun. eveAZN described the atmosphere as "more like a night out with the boys", while Schenkhan mentioned "it still felt like a major event… but also gave a nice, casual vibe.
Feri was more detailed in his praise, summing up the thoughts of a lot of FGC members after a long gap between majors: 
"I had a lot of fun at BANC. The Inflation staff were super friendly, there was enough space and setups for how many people attended, there were super cool keychains that were available at the door… I'd like to especially thank the TOs and staff that made this happen. We were fortunate to be in a position to be able to hold BANC, and I'm grateful for that."
I'm sure everyone who made it out to party and battle at Inflation that night felt the same way.