CWL Defending Champions Preview the 2022 Season
You can hear it all around the country. The click-clack of buttons, the churning of arcade sticks.
February will see the first blows struck in the 2022 season of CouchWarriors League, Australia's biggest tournament circuit for fighting games. The last few seasons have been tumultuous, but the focus on online events during the pandemic has given many new players the chance to make their name.
With tentative projections for a return to live events this year, the stage is set for these fresh challengers and decorated veterans to clash head-on, establishing a new power ranking for the Oceanic FGC.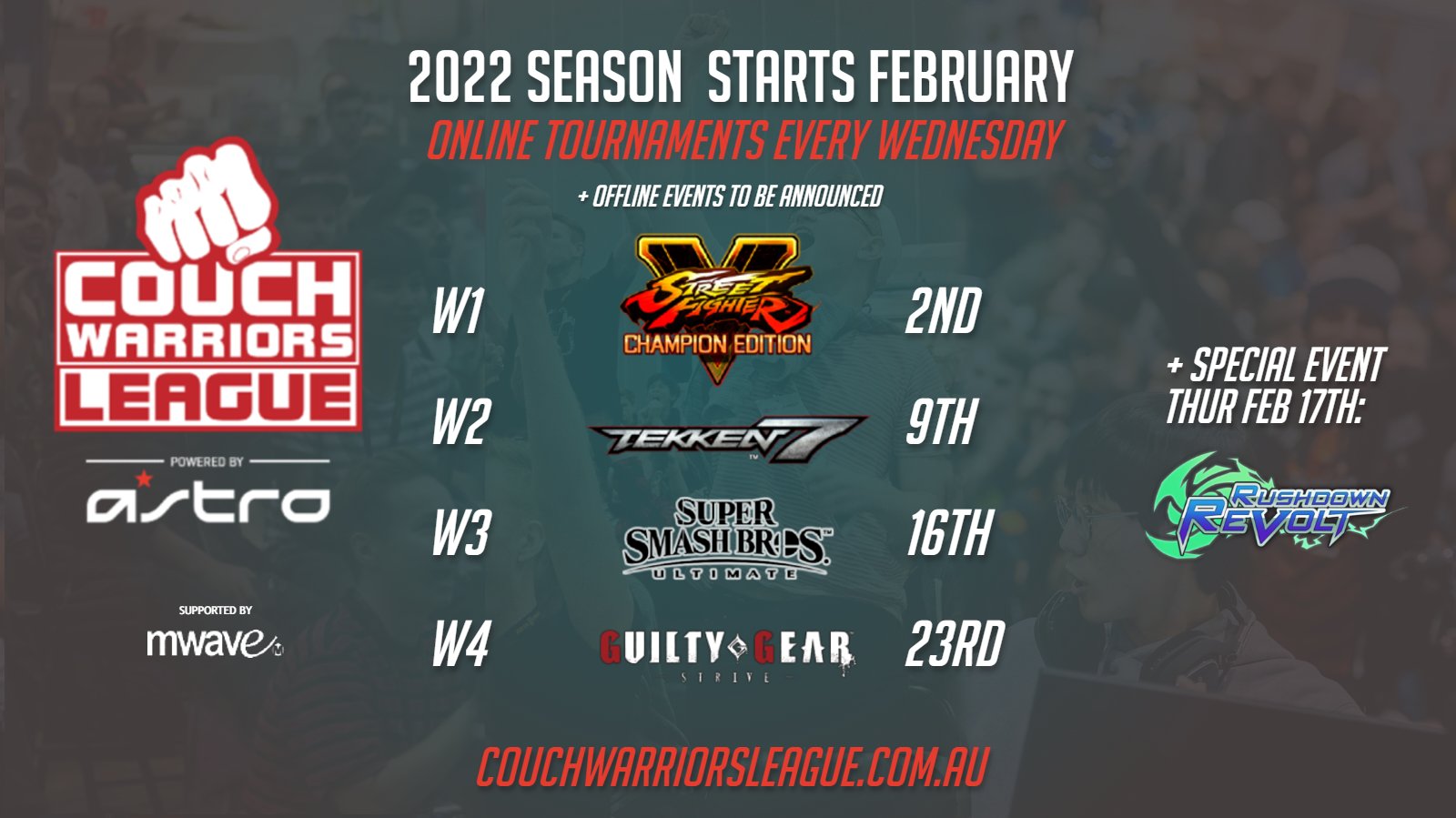 To get the most authentic forecast on this upcoming tournament season, CouchWarriors put a few questions to the reigning CWL champions from 2021. Having just set the standard in Street Fighter V, Tekken 7, Super Smash Bros. Ultimate & Guilty Gear Strive, what are our top players' perspectives on the year ahead?
Q: How excited are you for the 2022 season of CouchWarriors League? Have you stepped up your practice knowing that you have a title to defend?
Matthew "Subject" Trevorrow (Tekken 7 champion): "I'm glad to see CWL is back again, I'm excited to see returning players and hopefully some new people too. I haven't been practicing Tekken too much so far this year, but I'll try and do what I did last year and take the title again for 2022."
Xavier "Somniac" Nardella (Street Fighter V champion): "Definitely excited for another season, it's always something to look forward to every month.
I've taken a little break since the patch is coming up & work has been crazy busy, but I'll get back into the swing of things to get that W again this year."
"Fryd Ryce" (Super Smash Bros. Ultimate champion): "Having high stakes wi-fi tourneys again on a regular basis is definitely nice to see, but I also have more academic responsibility going into year 11. My priorities will be slightly rearranged throughout this season so practice may be limited and maintaining consistency will also be difficult. I do still plan on entering most CWL events and continue to practice to hopefully reach as close to the top as possible, but definitely carrying less expectations personally."
"eveAZN" (Guilty Gear: Strive co-champion, tied with Edward "Tito_Ed" Bituin): "CWL is blast to partake in as they always host the most fun events. I will practice if I find time for it, but with each passing year I have less time allocated partaking in hobbies."
Q: Are you concerned this season might come down to online results? How differently do you approach online tournaments compared to offline ones?
Subject: "With tourneys being mainly online it can be frustrating at times due to the conditions but overall, I enjoyed last year's CWL and am heading into this year's with optimism.
My approach for any tournament is the same whether it's online or offline, the most important thing is to enjoy myself, at the end of the day this is something I do for fun so that's what I always try to keep in mind."
Somniac: "Honestly it's not too bad when everyone is from the same region & the netcode is playing nicely. The benefit of online is that we get to use PC which is the superior way to play the game. Nothing beats offline for socializing, but it could be much worse for us if we played a delay-based game."
Fryd Ryce: "I've always been entering events both offline and online since starting to compete. With Perth still having locals running due to low case numbers (COVID), I don't think this balance will change too much but there will most likely be a higher prevalence of offline talent from other regions in CWL which is exciting to see.
In terms of my approach regardless of online or offline, it's usually just trying my best with a positive mindset and hopefully learning new things as well."
eveAZN: "Although I do find more offline events more enjoyable, since more people enter the online events it proves to be a better battleground for competition. Playing in online events is a lot less stressful because you have the benefit of playing from the comfort of your home. Although with that being said, I'm no stranger when it comes to pressure – so if it were up to me I'd bet my chances in an offline environment."
Q: Who are the main opponents you're keeping an eye on for CWL 2022? Are they old rivals, or under-rated players ready for a breakout year? 
Subject: "I'm looking out for everyone to be honest. In tournaments, online especially, you really can lose to anyone; the main thing I'll need to look out for is keeping myself composed during matches.
As for underrated players and rivals, there's no one I consider a rival, nor are there really underrated players right now. What I am looking forward to is seeing more of the newer players level up and become players I can consider underrated or even a rival. This applies to myself as well; I hope to up my game this year and get to the level of our top players."
Somniac: "I think everyone is pretty strong now in the end-game – there's ROF, pahnda, Travis (Styles), Schenkhan and Rumours gunning for the top spots. With breakout performances from Destiny, Spaceghost, TB & Llama (AwildLLAMA) the tournament can always be up in the air depending on the brackets. "
Fryd Ryce: "The main opponents I have in mind are Kinaji, Unfezant and Dura just to name a few. I've fought each of them in CWL multiple times and it's always been challenging whether I win or lose. Some underrated players are Mrduck and Kaizyan; they usually don't enter too often but both are pretty impressive and it'll be good to see them perform well."
madcadian incident ggs @CouchWarriors pic.twitter.com/P2MVNGKmdx

— Kaizyan (@_KingKaiz_) February 6, 2022
eveAZN: "The player to keep an eye on is definitely Tito_Ed as the other defending champ of CWL for GG:ST, as he is a regular threat in both online and offline events.
Some other mentions go to TB (for online events), Popokilloray (if he decides to compete) and dark horse pick Beedozer for his rapid progression."

Popokilloray took the honours at our first national CWL event for GG:ST last year.
Q: How do you feel the community and the meta for your game has developed over the past year? Have any patches or DLC characters changed your perspective on the game?
Subject: "Tekken 7 is most likely at the end of its lifespan and unfortunately that has negatively affected the number of players joining the game.
As for the meta of the game, there don't seem to be any more balance patches coming and that brings good and bad things. The meta being stagnant now gives players a chance to understand the game further, but this also means the problematic characters likely aren't going to be nerfed and for tournaments this does make things much harder for me."
Somniac: "V-Shift was a major addition, and I think that people are only just starting to use it more effectively now. I'm keen to see what the next patch brings because I've invested some time into multiple characters I think may be a good pick next season to aid my Bison."
eveAZN: "The community has very much so leveled up since the game launched: we have a huge range of different players making it to Top 8 placings with each tournament, although the winners of said tournaments have stagnated to the same fellow suspects."
Q: Will you be competing in any other fighting games this CWL season? Are there any new games coming out in 2022 you're hoping to see supported?
Subject: "Tekken is the only game I compete in currently, but I am open to trying new games in the future."
Somniac: "I'm really keen to try out KOF15, it'll be rollback based netcode so I'm hoping it'll be a great experience online. It will be good to see the scene come together to try out a new SNK game and I'm sure there will be lots of tournaments going on early days where people can test their skills & tech."
Fryd Ryce: "Smash is my main and only fighting game so I don't have much perspective towards other FGC competition. I plan on focusing on Smash without picking up other fighting games for the most part."
eveAZN: "Apart from Guilty Gear Strive, I might dabble in Gundam Extreme Vs. Maxi Boost ON, Melty Blood: Type Lumina and Tekken 7. As for new fighting games I'm looking forward to King of Fighters XV, with its release just around the corner."
An experienced competitor across many games, eveAZN also drew attention to the lack of sponsor support for GG:ST:
eveAZN: "Now that Guilty Gear Strive has proven to be a main staple among the other competetive fighting games such as Tekken 7 & Street Fighter V, are there organizations looking to support the talent within this community like there have been with others?"
Thanks to all our defending champions for sharing their CWL thoughts here, which together offer a lot of context for the competition we're about to see. It's especially great hear that despite the challenge of balancing online and offline play – not to mention life outside the FGC – all of them will be back at full force to face down their rivals and defend their crowns!
The first ranking points of the season are already being decided in online tournaments and offline state ranbats this weekend. By the end of February, all four leaderboards will have their early pecking order established – though certainly not locked in.
Find CouchWarriors on Twitter to see prize announcements and get our monthly CWL round-ups, or follow leaderboards for each game on couchwarriorsleague.com. Of course all CWL events are streamed live from our official channels, CouchWarriors & CouchWarriorsSmash. And if you want to test your own strength against our champions, you can join your local or online bracket through our Smash.gg page.
Good luck to all players across our major and minor titles this season, and stay tuned for the first tournament reports of 2022!